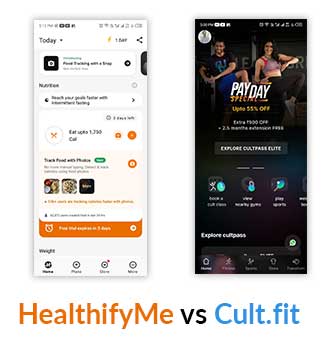 HealthifyMe vs Cult.fit – is it a question in your mind? We know they are a trend, especially amongst the youth. But both of them seem similar so which one should you go with? If you too are looking for this answer, you have landed in the right place.


Here, in this article, we are going to talk about the features, pros, and cons of both apps. We will also see which one is the right pick for you.



Since you are shopping around, we thought of giving you a magic recommendation. We will talk about one more app that fits the requirement list you have in your mind.


So, before going ahead, here are some facts about yoga we want you to know:

There are 196 Yoga Sutras or aphorisms

There are 84 classic Yoga Asanas, the Asana being one of the 8 limbs of Yoga.

The first known appearance of the word "yoga", with the same meaning as the modern term, is in the Katha Upanishad, composed about fourth to third century BCE

Research has suggested that yoga improves social and occupational functioning in schizophrenic patients.


Hope this gave you a bit of curiosity about Yoga and will to download a Yoga app! Here you go, read the complete article to see which app is meant for you:


Now, without any further ado, let's get started.


Why not begin with magic? We mean magical recommendation as told earlier. So, the recommendation is Yog4Lyf – a yoga app you can download to start your health transformation journey.


In this app, you get yoga sessions for each category – and for almost all age ranges.


For instance, you can find various themes such as yoga for senior citizens, yoga for weight loss, yoga for anxiety, and much more.


You will find video sessions of expert trainers covering each yoga asana step by step so that you don't miss out on anything. Once you buy the premium version, you get unlimited access to upcoming yoga courses.


It is one of the best android yoga apps for good health! Not only do you get yoga sessions, but you will also get a diet for weight loss, thyroid, pcos and diabetes. It won't be wrong to say that Yog4lyf will take care of all the things in your health transformation journey.


Pros

Live follow-along classes
Affordable in both yearly as well as monthly packages
More than 100s of high-quality, follow-along yoga videos
You can download the videos for offline viewing.
Diet plans for losing weight and much more

Cons

More themes can be added
Data consumption at times is high
Ratings on Playstore: 4.8

Customer reviews:

Awesome app for practicing yoga.Will strongly recommend.Grateful to Yog4lyf for helping me to bring positive changes both physically and mentally.💟 Reeta Antony


This is app i m looking for,After using 6 month I felt this is a best yoga app for health. Earlier I was doing weight loss classes in english language , then I saw there is hindi language option is available then I started doing in my familier language. I m much fitter than earlier . Thanks yog4lyf – Mehrotra's Bhajan Diaries


Yog4Lfy is app is good for yoga, simple with effective asanas will improved strength and increasing imunity power, especially background music will create more interesting, improving concentration and avoiding intermediate thoughts while doing asanans and meditation. 20 min Power yoga series is design with in less time, with more benefits 👏 👌, Thank you Yog4Lfy team. – Madhusudhan Naidu
No problem, if you are not a Yoga kind of person. Below we deep dive into the details of HealthifyMe vs Cult.fit starting with Cult.fit first.
HealthifyMe vs Cult.fit
Cure.fit's software for fitness and well-being allows you to access multiple forms of exercise, such as yoga, meditation, a balanced diet, and many other activities.

The app also makes it possible to view live yoga and fitness classes on the platform, as well as professional coaching, tracking of your own progress, and comparing your performance with other users.


Although there are plenty of features and services on the app, you can always decide to enjoy even more by subscribing to either a monthly or yearly plan.

You may join the live fitness training session, watch exercise videos and sessions, and get access to healthy
recipes at the nearest cult.Fit location, and more.


3 things you need to know about it:

Work out at your time

A major benefit of Cult Live Class is that you can exercise whenever is most convenient for you. Regardless of if you like to wake up early or if you're more of a night person, there are session times available for you to select.


Variety of Work out options

Cult Live Class offers a wide range of exercises, meaning that it can cater to everyone – regardless if they are just starting out or are already an expert. It includes basic dance steps, strength and core workouts, plus live Yoga and meditation classes.


Exercise with your friends

Exercising with pals can be beneficial since it can spark a healthy competition between you. You can simply join a Cult Live Class and bring a buddy along with you. As you exercise, you can check each other's training points and have a good time.



Pros

You get to pick up from a lot of activities – from dancing to yoga to boxing to meditation.
Easy to follow along to
The energy meter in the app gives the user a good push during the session
You can even shop for fitness equipment, apparel, supplements, and more via the app
1:1 Personal Coaching for all your health and fitness needs

Cons

A little pricey
Desktop version is not in sync with the mobile version

Ratings on Playstore: 4.6

Customer reviews:

It's a really good app and you get access to the entire range of services at the tip of your fingers…. Though you need to use more than your fingers to actually benefit from the wide range of exercises,food,mind health options available. Get off your backsides and sign up…. The only thing that could be better is the energy tracker for live sessions. Other than that it's great. The crew behind this is awesome too. Very responsive ~ SAKSHI GOPAL


Great app for home exercise. I purchased a Bluetooth earphone along with at-home subscription. I got a trainer vasu just like a personal trainer who taught me the way of doing exercises, the purpose: to feel the stretches, to breathe systematically, to show up and scale up whenever required and enjoy the process rather than thinking about the goal and forcing the way out. At one point everyone started and was free to do as many mistakes, that CULTFIT allows me to do. Really expecting fitness 2023 ~ Utkarsh Sharma


Very good app and the system… But it would be better if the app also showed which muscles of the body are active while showing the demo of the exercise… Would ensure the person following the he/she is doing it right.. ! Akshay Kumar


HealthifyMe, an Indian digital health and wellness platform, provides fitness and nutrition counselling on an individual basis.


This platform offers a tailored diet plan and exercise program according to the user's needs. For a premium membership, users have direct access to nutritionists, yoga instructors, and fitness trainers.



In addition, the app has a virtual nutritionist known as Ria that is powered by Artificial Intelligence. This app is compatible with multiple activity trackers, allowing users to sync their wearable device with the HealthifyMe app and keep track of their data.


Some of the notable features of this app are:

The application provides no-equipment home exercise recordings and yoga videos to get in shape and stay healthy.


It equips you with various trackers to continually observe your rest, weight reduction, calorie utilization, and exercises to guarantee responsibility and stay inspired.


You can communicate with the specialists on the stage and have one-on-one communication with mentors to look for direction on your eating routine, exercise routine, and inquiries identified with way of life ailments (if you are experiencing any).


Get prompt solutions and input on your eating routine, exercise program, and other well-being inquiries from the AI-controlled dietician, Ria.


The application gives you admittance to a huge database of sound Indian food and plans.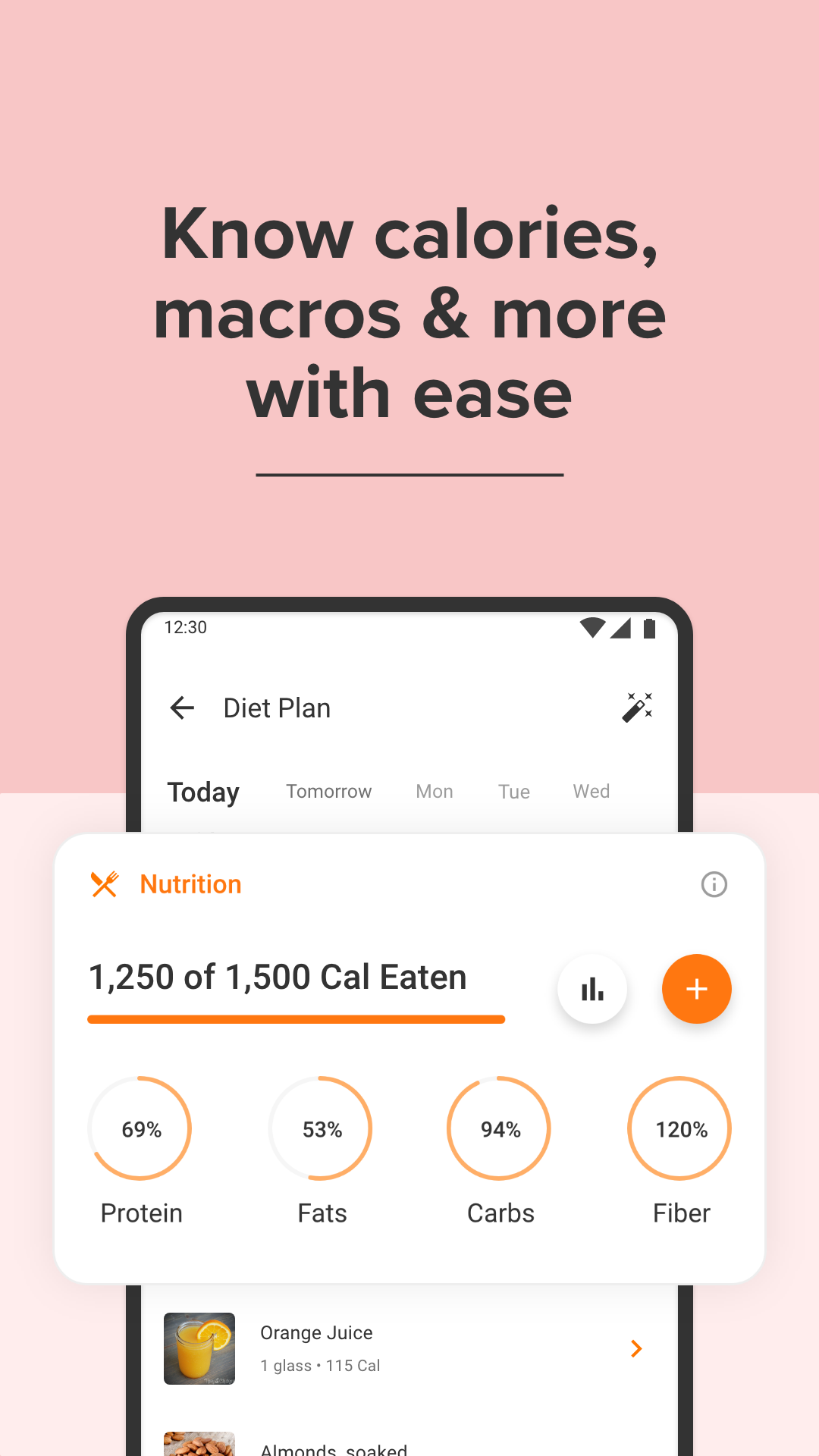 Pros

They have interactive health communities that guide you in a better way.

Database of around 100000 food items.

Attractive user interface

Track the calories you burn

Plan your diet as per the requirements

Cons
If you are looking for a variety of workout options to choose from, you might be disappointed as they do not offer multiple workout options.

Unnecessary promotion of paid plans and details.

Ratings on Playstore: 4.6


Customer reviews:

Editing my previous review from 5 stars to 4 stars. The app is amazing. It has so many awesome features, however, the foods that are given don't always have the correct amount of calories or macros. An option to manually track it calories and macros suited to the products we consume would be a great feature. Other than that, no problems ~ Kevin N

The Pro program is very helpful. With the right coaches, it has been life changing for me. I have a better idea of my diet and how to manage my macros as well as micros. ~ Sakshi Dwivedi

The onboarding plan asks for what you want to do, that's great. I choose calorie tracker and that is hidden in other trackers after I complete the sign up. It is hard to understand where to track what you ate. ~ Sriram Raja

Which app should you pick – HealthifyMe vs Cult.fit

Our answer mightn't be unique, but it all relies on you! Every person has varied objectives, timetables, inclinations, and budgeting. Despite the fact that we said we'd assist you in selecting a yoga app, here are our proposals:

If you are looking for an app that's cool and youth-friendly, you can go for Cult.fit


However, if you are looking for an app that guides you across and help you with diet plans from certified professionals, HealthifyMe is the way around.


If you need a yoga app that is affordable yet covers it all, Yog4lyf should be your pick. It gives you access to video tutorials for all the yoga asanas that you can perform even in your busiest schedule, live classes, diet plans and more.

But as we said, it depends on YOU!

Conclusion

Hope this article has justified the purpose you have read it for. This comparison HealthifyMe vs Cult.fit was meant to help you pick a yoga app so that you can start your healthy journey ASAP.

Let us know in the comments section if you have used any of these. If not, which one are you planning to download next?