Do you love practicing yoga, but hate having to leave your home to do it? Do you find it challenging to fit into your practice and stay motivated? If this sounds like you, then you might want to consider getting a yoga app for your phone. These best android yoga apps for weight loss are a fantastic resource for anyone who wants to take their yoga practice from the mat and into their everyday life.



Why do I need a yoga app?

There are many benefits of practicing yoga as an adult. It can increase strength, flexibility, and balance, and also help reduce stress. The tricky part is actually finding an appropriate beginner's yoga class or learning how to practice at home without much guidance.


A good Yoga app can be extremely helpful in this regard.


It can streamline the process of learning poses, searching for the right classes, or even keeping track of your progress and goals as time goes on. Here are some of the best Yoga apps for beginners and pros alike that will help get you moving in the right direction when it comes to your practice.

Let us move on to the list of yoga apps for which you are on this page!

1. Sadguru – Yoga & Meditation

With this app, you can stay connected to Sadguru with daily mystic quotes, inner engineering online program, yoga tools, videos, articles, and tweets.
Benefit from free yoga tools and guided meditations by Sadguru. Set a reminder for Sadguru's presence time. You can also find upcoming yoga programs near you. When we talk of the best android yoga apps for weight loss, this can't be missed.
It has seven yoga practices including:
Yoga for Health
Yoga for Success
Yoga for Wellbeing
Yoga for Peace
Yoga for Joy
Yoga for Inner Exploration
Yoga for Love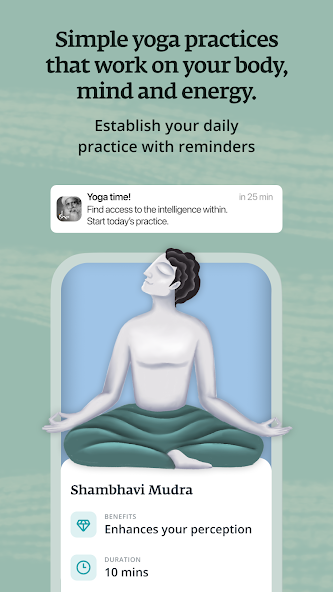 Pros

Available in various languages such as Hindi, English, Tamil, Telugu, Kannada, Malayalam, Marathi, and Gujarati.
UI is so easy to use
The free yoga tools have a lot to offer
The videos are available offline as well. So, if you download them, you don't need an internet connection to use the app.

Cons

The Yoga tools from Sadhguru have to add more privacy
Sometimes slow support
Missing some features
Ratings on Playstore: 4.6

Customer reviews:

Perfectly organized app, very easy to find what you are looking for. I personally love 'Sadguru exclusive.' Thanks, Sadguruji and team for offering such a beautiful gate to me which enters into a plethora of enlightening knowledge. ~ Manoj R Patil


Smooth, fast, and user-friendly application. One issue is that it cannot be rotated in landscape mode. It would be very convenient if this feature is added. ~ Amit


It is a wonderful app in terms of performance. I have a request: please add a feature to save/bookmark sadguru's wisdom shared in videos, quotes, and articles. Sometimes we want something to reread, and some things are one-time read stuff. ~ Bhavya Raninga
If you are looking for an app that gives you yoga sessions for each category, Yog4lyf is meant for you. Here you can find various themes such as yoga for senior citizens, yoga for weight loss, yoga for anxiety, and much more.
You will find video sessions of expert trainers covering each yoga asana step by step so that you don't miss out on anything. Once you buy the premium version, you get unlimited access to upcoming yoga courses.

It is one of the best android yoga apps for weight loss! Not only you get yoga sessions, you will also get diet for weight loss. It won't be wrong to say that Yog4lyf will take care of all the things in your weight loss journey.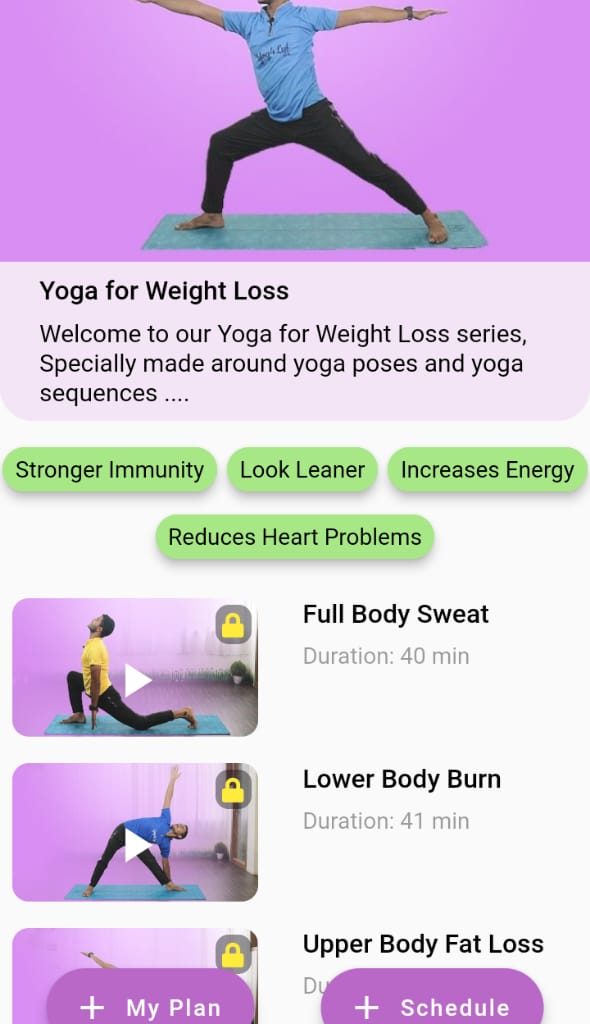 Pros

The UI is pretty easy to use
Affordable in both yearly as well as monthly packages
More than 100s of high-quality, follow-along yoga videos
You can download the videos for offline viewing.

Cons

More themes can be added

Ratings on Playstore: 4.8

Customer reviews:

I am doing yoga for back pain course in this app. Feeling a lot of relief in my back pain. App UI is simple. And yoga classes are in hindi so I feel comfortable. Very helpful app. ~ Sadhana Arora


This is app i m looking for,After using 6 month I felt this is a best yoga app for health. Earlier I was doing weight loss classes in english language , then I saw there is hindi language option is available then I started doing in my familier language. I m much fitter than earlier . Thanks yog4lyf. ~ Mehrotra's Bhajan Diaries


Yog4Lfy is app is good for yoga, simple with effective asanas will improved strength and increasing imunity power, especially background music will create more interesting, improving concentration and avoiding intermediate thoughts while doing asanans and meditation. 20 min Power yoga series is design with in less time, with more benefits 👏 👌, Thank you Yog4Lfy team. ~ Madhusudhan Naidu
If you are running short of time, this is the right app for you. As the name indicates, you will find complete five-minute yoga sessions. In the app, you will find sessions for various situations and needs.

For example, there are sessions for an AM flow, a stretch after a long run, or a wind-down sequence pre-bedtime.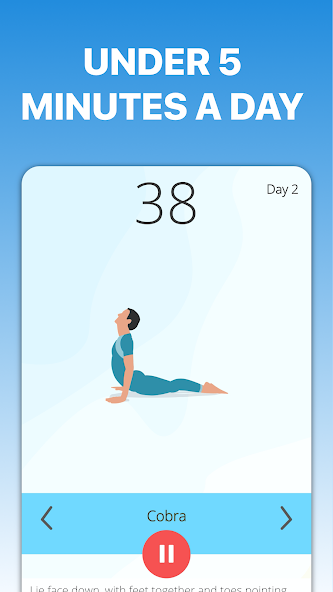 Pros

Suitable app for yoga beginners
Each session gets over in less than 5 minutes (that's why the name)
Has a feature to remind you to practice each day

Cons

Premium version is too costly
While simplicity is one of 5 Minute Yoga's strengths, it is also one of its weaknesses. The lack of depth in both its interface and options means there is little to browse or explore in the application.
Ratings on Playstore: 4.4

Customer reviews:

Excellent for beginners! Short enough to keep you motivated, yet it works the body out long enough to make a difference. I love that I can fit it in every day since it takes about 5 minutes. I will keep using this app! ~ A Google user


easy to follow. great to get you started if you are feeling lazy because you really have no excuse to not even spend 5 minutes to do some exercise and doing something is better than nothing even just for 5 minutes ~ A Google user
Simply Yoga is available for free on the Google Play Store and App Store, and it offers over 30 poses in the form of 20-minute to 1-hour videos. When you're ready to move to the next level, purchase the full version of this app, which includes landscape mode, the second tier of workouts, the ability to create custom routines, and no more ads. This app is great for a quick yoga session.



Pros:

20, 40, and 60-minute workouts
Can be used by both men and women
Video guides for each yoga pose
Select from the available 3 predefined routines

Cons:

Too many ads
Limited content available for free

Ratings on Playstore: 4.2

Customer reviews:

I really enjoy this app, and have done the 20-minute workout for years. However, as much as I appreciate the correct grammar of the new version, we really need to hear when to release the pose to give us time to set up for the next one without having to look at our screen.. Hope this makes sense, Carol ~ wwtravel wwtravel

Simple basic routine was ideal for me to improve mobility and stretching after having bad back. Not really a yoga person but 20 mins was just enough to make a difference without getting bored. Advice on how/where to breathe was helpful to get most benefit out of stretches. A little off-putting seeing someone bent double when I can barely touch my toes! ~ Ediri O'Brien

Been using this app for years. Simple, easy to use, and gives you exactly what you need. A yoga workout! ~ Naya Ahmad

All the content available on this app is free with no in-app purchases or subscriptions.
It offers simple and easy-to-follow yoga classes with voice instructions.
Because this app isn't designed for advanced yoga enthusiasts, people who have more knowledge and experience may find that it does not contain enough variety.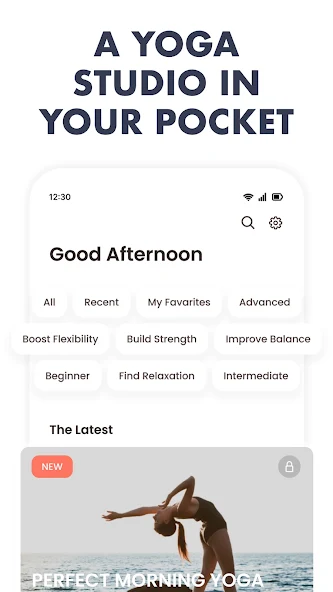 Pros:

Free to use
Good app for beginners to start with
You get categories such as a good morning yoga session or a yoga workout to specifically work your back or abs.

Cons:

Advanced yoga practitioners may not benefit much from the app.
Navigation through the app is a bit difficult

Customer reviews:

Nice overall. The audio should say "right" or "left" when the pose has a left and right variant. Also I like it better in my other app when the audio counts down: " 3, 2, 1, start." Maybe for the end as well. I also like when the audio says halfway done, because some poses are more challenging than others. ~Matthew Jacobs

As the name indicates, for beginners, or it has been a good while since you last really stretched, or are just not very flexible, the app points you in the right direction. Always consult with a physician of course, and listen to your body. If something feels painful or off in anyway, skip the stretch or consultant your doctor. It's all mentioned in the app. Works pretty well for me, no issues whatsoever, and gets the job done untill I grow out of what the app provides. ~ Leena

Wonderful. I recommend this for those that prefer a relaxing routine including peaceful music as a background. This app will take hers/ hims far because we can eat before and exercise afterward, while still feeling really good. Confidence is one of the vocabulary words I would use to describe myself during a routine with an app as efficient. Well done. ~ A Google user


Conclusion

Hope this article has justified the purpose you have read it for. These 5 android yoga apps are good for weight loss and can be used even if you are a beginner.

Let us know in the comments section if you have used any of these. If not, which one are you planning to download next?