Recently Yog4Lyf: Yoga for Health app completed 50K Installs on Google play store. And our team decided to do an in depth analysis of online yoga user behaviour. Since we are an advocate of building company in public, the next obvious step is to share this report with the lovely community which is whole heartedly supporting us in the bootstrap journey and inspiring us at each moment to become a responsible and better company.


Before we delve deeper into to behavioural statistics and infographics of online yoga users in Yog4Lyf app I think it's important to understand the nature of online yoga courses in Yog4Lyf app.


Brief about Yog4Lyf


Yog4Lyf is a holistic health and wellness platform providing online yoga courses and diet for day to day health needs. We strongly believe that yoga is one of the most evolved sciences out there which can help the society in attaining physical, mental and spiritual wellness. Currently Yog4Lyf app is available for android on Google Play store.




Size of Yoga Market


As of a study done in 2020 the size of global yoga market was estimated to be ~ $41 Bn. And the industry is on path to hit ~ $67 Bn by 2027. With more and more scientific research validating the claims of Yoga that were considered fluke a decade back, at Yog4lyf we are confident that actual market revenue size would be even bigger by 2027 than the lates study.


Number of Yoga practitioners


The number of people having faith in Yoga to manage their daily health and wellness is humongous and is growing rapidly.


Global numbers


According to a study by International Yoga Federation in 2021 the total number of Yoga practitioners in the world was 300 million.


India numbers


For finding the number of Indians using Yoga practice we have used the study by National Library of Medicine. This study found approx 12% of India's population using Yoga practices. If we take India's current population then the number of Indians practicing Yoga comes out to be ~ 100 Mn, which is humongous.


Demographics of online yoga users

City distribution of online yoga users

Since at Yog4Lyf we are focusing primarily Indian audience and making Yoga courses to enable regional languages as well. From geographic perspective 99% of users are from India. Hence, we will be going deeper into city distribution within India.


For the sake of simplicity we have represented distribution of users among top 10 cities. Let's check the data first.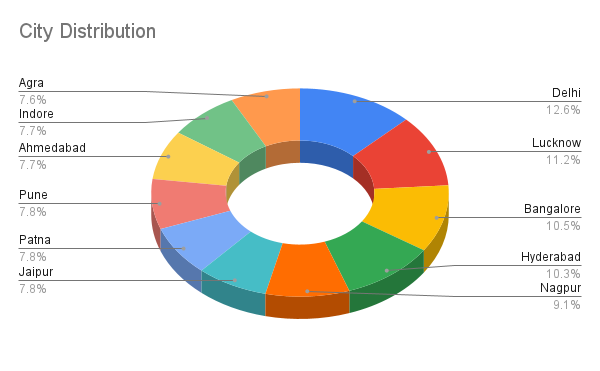 Users are fairly well distributed among the tier 1 and tier 2 towns. Metro cities have a slight upper hand but do not dominate the scene in a drastic manner. Since Yog4Lyf offers Yoga courses in Hindi along with English so there is a definitive denser presence of the north indian cities in the reports.


Age distribution of online yoga users


This is an interesting piece that we realised in our journey. I will let you all go through the graph first before reading my analysis.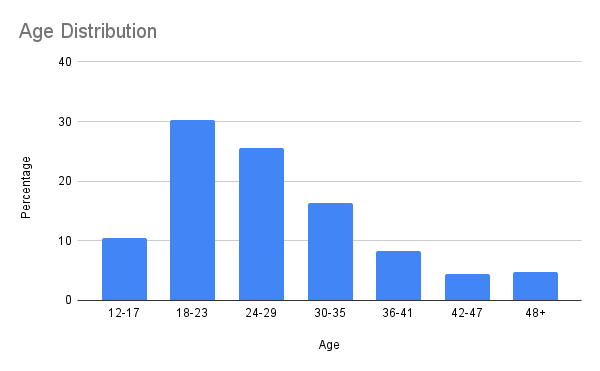 Well, tell me you are not surprised. When we had started to build Yog4Lyf a lot of people told us that Yoga is not for young audience and 18 – 29 age group typically likes gym and party culture.


Almost 55% of the online yoga users that visit Yog4Lyf platform belong to 18 – 29 age group. I will also add that we never did anything specific to attract the discussed age group. The only bias that I could see over here is that a lot of our efforts of organic reach goes into Instagram which probably has younger audience.


Anyways, it is heartening to see young online India realising the potential benefits of ancient knowledge of Yoga.


Gender distribution of online yoga users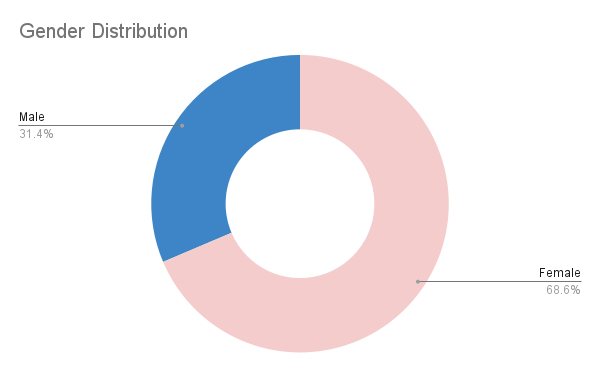 Ahaa ! I am sure, this won't come as a surprise to many.


Almost 70% of the users of Yog4Lyf platform are females. Again this is nothing to do with the messaging to our users or the yoga courses that we offer in our app. In fact we are yet to add female centric courses that are hot in demand 😀.


Preferences of online yoga users


In this section we will talk about the preferences that our users share with us in the process of registering on the app. The aforementioned data is used to personalise user experience in the app. Primarily ensuring users get the online yoga course they are looking for in an easily discoverable manner.


Lets have a look at the data first: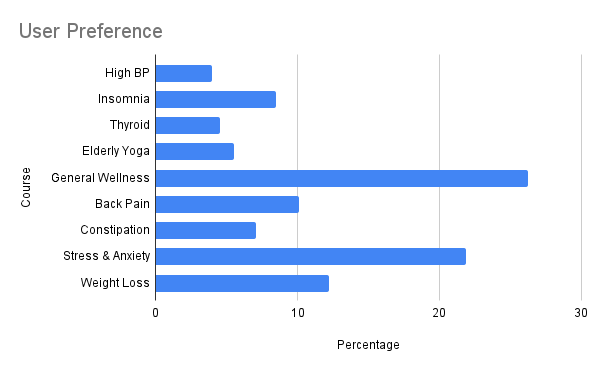 As you can see in the graph above, majority of the users are looking for general wellness, weight loss and stress and anxiety. A lot of folks in current generation are struggling coping up with high expectations. This eventually leads to irregular lifestyle. And the end result is unexpected weight gains and life style diseases.


Naturally the second set of preferences are for online yoga courses for prevalent life style disease like Thyroid, High BP, Insomnia etc.


Consumption of online yoga


In the process of analysing the consumption trend we will see the below categories:

Yoga course consumption trend
Pranayama courses consumption trend
Most popular asana
Most popular pranayama
Most popular background music
Language consumption trend

Yoga course consumption trend


This is another interesting trend to observe. In below chart we will get to know what yoga courses are consumed by the online users.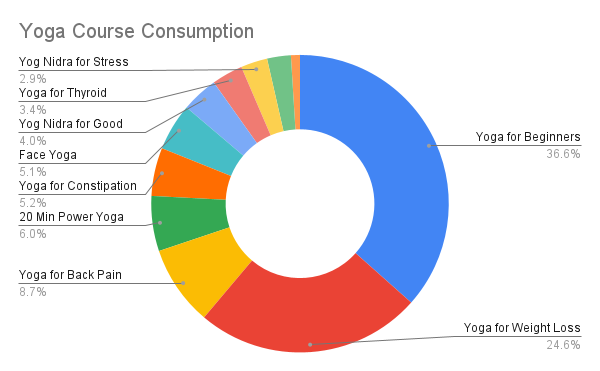 As seen in chart, Yoga courses for beginners and weight loss are the two most heavily consumed yoga courses. However Yoga courses for stress not being consumed in equal proportion does seem like an anomaly. To be honest, we are trying to solve this riddle at our end as well with no definitive answer right now 🙃.


Pranayama course consumption trend


Pranayama based courses are an integral part of the Yog4Lyf app. These course are particularly more useful to those users who do not prefer asanas.


The distribution between Yoga course consumption and pranayama course consumption is represented in below chart.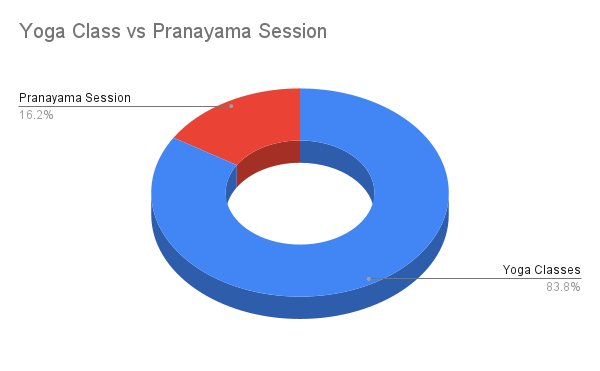 Top 3 Pranayama courses are as below:

Pranayama for focus and concentration

Most popular asana


Many users join our app to learn and practice specific asanas. There is a separate asana library to enable such users. Top 5 yogasana being practiced by our users are as following.

Ardha Matsyendrasana / Half Lord of the Fishes Pose
Bhujangasana / Cobra Pose
Navasana / Boat Pose
Dhanurasana / Bow Pose
Ustrasana / Camel Pose

Most popular pranayama


Just like asana library users can also prefer to practice pranayama that they prefer. The most popular pranayama being practised on the app are:

Anulom Vilom
Kapalbhati
Sama Vriti
Bhastrika

Most popular background music


Goes unsaid that great background music library is a must have in any online yoga platform. Soothing and relaxing music helps the users in calming down and concentrate better in online yoga sessions.


Top 3 background music are:

Flute music in Instrumental category
Crown music in Chakra category
Sitar music in Instrumental category

Regional Language consumption trend


Another interesting aspect is the language wise distribution in the online yoga courses consumption. Current ration between English and Hindi is 66% to 33%. Honestly speaking this is not the most correct representation as many of the important courses are not yet available in Hindi.


Feedback of online yoga


This section is one of the closest to my heart. After completing yoga sessions in app we ask our users to share their feedback with us. The critical feedbacks help us iterate the product in a better version and positive ones encourage the team to work harder in delivering a pleasant experience.


Tag based feedback


These are tag based feedback options available to users after completing their sessions. Normal context of chosen tags is to give simple methodology to users to express their emotion after the class. Lets us go through the chart and then analyse further.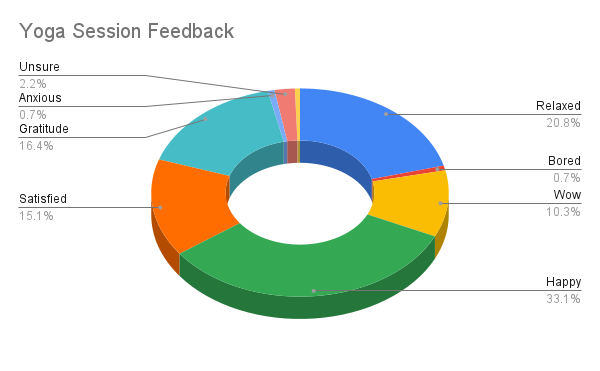 The pie chart says it all. 95% of online users share a positive experience after completing a session. Without taking much credit for the app experience, I will give the due credit to the science of yoga itself which spells beautiful magic on the online yoga practitioners.


Comment based feedback


Another option available with users is to share detailed feedback in form of text based comment. These comment feedbacks also act as a channel of engagement between us and our online yoga users. Below is a visual representation of feedback comments by our users in word cloud format.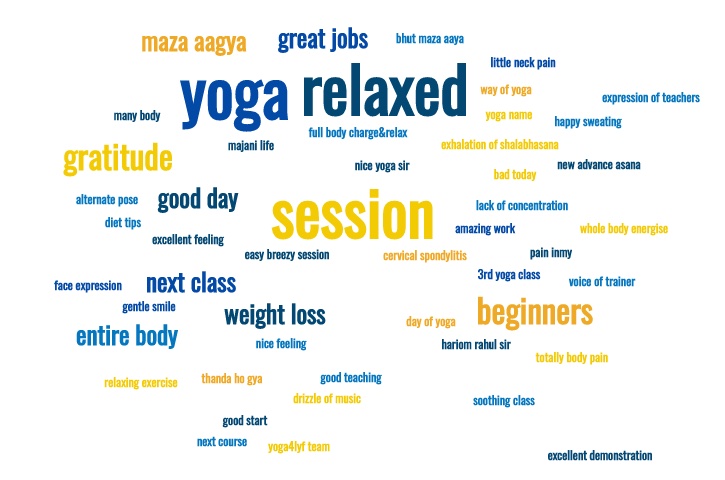 Offline user feedback


As a product team, we always prioritise to speak to our customers to gain deeper insights. Below is summary of many such calls / chats / interactions.

Our online yoga users love the simple UI and easy discoverability of the yoga courses
A lot of yoga users appreciated the app for simply doing what it is expected to do
The next level of demand is to share food details for healthy lifestyle and prevalent life style diseases
Another herculean ask is to create a system to recommend next level of yoga course once a course is complete
Another good challenge to solve is to avail yoga courses in more regional languages, especially in Tamil and Telugu

Conclusion


I hope the statistics and details shared in this post will help other researchers and companies in health and wellness domain and especially those in Yoga related fields.


We will recreate this report once the Yog4Lyf app reaches 1 Lac downloads. I can confidently promise it will be way more richer than now. Primarily reasons being, we will have many more data points around new courses that we have added of-late which includes important topics like diabetes, PCOS etc. In next few weeks time we will be adding a very rich section providing food details as asked by our users.


Please feel free to share this report with anyone you think will be benefitted from this report.


Signing off till next time.