What is Virabhadrasana 2 or the Warrior Pose 2?

Virabhadrasana 2 is the second in the series of the Virabhadrasana group of asanas.

Also known as the Warrior pose 2, it is a standing lunging asana of modern yoga and is named after the mythical hero Virabhadra. He is said to have been born from Lord Shiva's dreadlocks and represents power, valor, and strength.

You can also simply move into Virabhadrasana 2 from Mountain pose (Tadasana).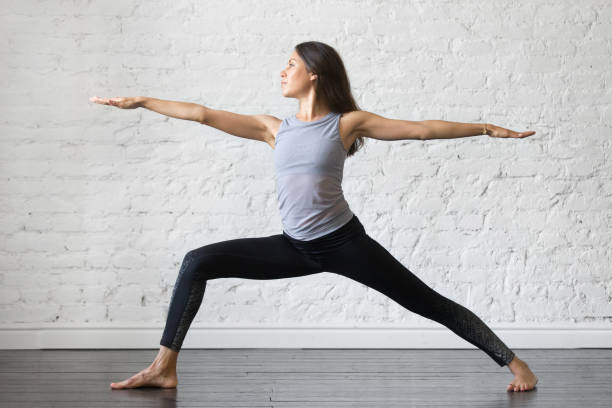 Instructions for Warrior Pose 2

Great that you decided to feel like a warrior. But to do this right, you must follow the proper instructions. This guide might help: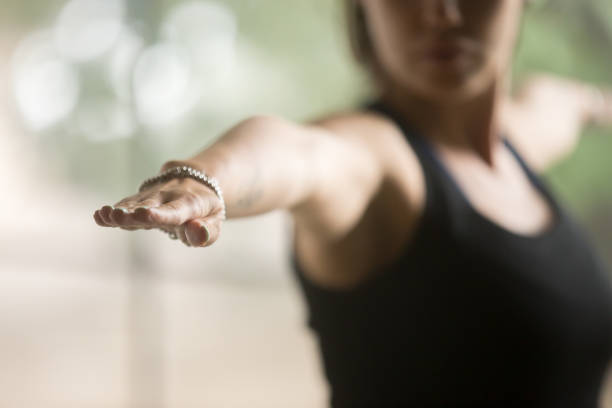 Start the Warrior 2 pose by standing in the Mountain Pose.
Now, exhale and spread your legs around 3-4 feet wide.

Great going!


Place your hands on your waistline.
Move your right toe at an angle of 90 degrees and the left at an angle of 15 degrees.
Time to turn your neck towards the right and fix your gaze ahead.
Inhale and extend your hands in each direction. Ensure that your palms are facing the ground.
Raise your arms to your shoulder level keeping them parallel to the ground.
Exhale and bend your right knee.

It's not that tough, trust us!


Hold the pose for 30-60 seconds while keeping your pelvis inwards and back straight. Keep breathing deeply.
Exhale and straighten your extended knee.
Bring your hands back to the waist.
Straighten your toes and return to the starting position.
Repeat this pose on the other side.

You can also find the detailed instructions in the following video made by Yog4Lyf Yoga Instructor, Mrs. Kavita:



Benefits of Warrior Pose 2
To get the maximum benefits from the practice of this pose, it is said, one should feel like a warrior, having strength, confidence, and power. Here are some of the benefits associated with this yoga pose: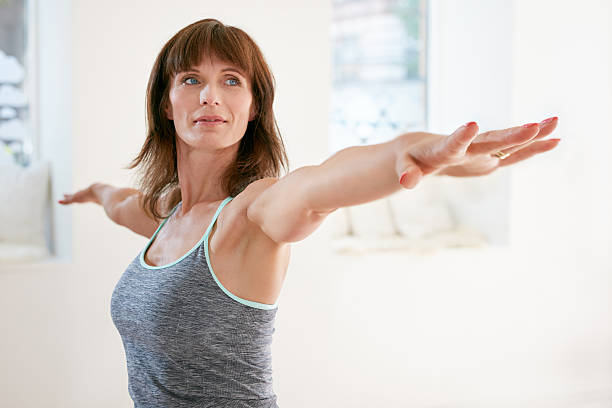 The standing posture opens your hips; strengthens, and stretches your legs and ankles.
Stretches the inner thighs, groin, and chest.
This asana is a great way to increase body awareness and improve the mind-body connection.
Since you breathe deeply while holding Virabhadrasana 2, you strengthen your respiratory organs.
One of the best Warrior 2 pose benefits is that it increases your overall endurance and strength.

PS: This asana doesn't require investment in expensive equipment. You just need a clean space and can easily include this asana in your home workouts


Contraindication
Here are some precautions you need to take while doing this pose:


Do not practice this pose if you've had recent surgery on the hips, knees, or shoulder.
Try avoiding it if you are experiencing diarrhea or high blood pressure.
Those with neck injuries should not turn their head to face the front hand.
Always work within your own range of limits and abilities.
Also, if you have any medical concerns, talk with your doctor before practicing yoga.


Conclusion
Every yoga practitioner aims to achieve a peaceful mind and physical fitness.

Virabhadrasana 2 is the perfect asana to achieve these objectives. However, the key to achieving the benefits of this asana is to be consistent with your practice and keep yourself challenged and engaged.

Happy Yogaing!