Okay, we know why you are here. You want to read about Down Dog vs Daily Yoga app to see which one is the right for you. Be it in terms of features, prices, or usability… Right?


Here, in this article, we are going to talk about the features, pros, and cons of both apps. We will also see which one is the right pick for you. PS: there is also a magic recommendation for you. We have shared one more yoga app that can prove to be useful to you. So, let's get started.


However, if you are new to yoga but still on this page, let's talk about some yoga facts before we deep dive on Down Dog vs Daily Yoga !


According to a survey, regular yoga practitioners reported the following about the effects of yoga on emotional well-being:


86% report a reduction in stress.

69% report a positive increase in temperament and mood.

63% report yoga mentally motivates them to exercise more.

59% report an improvement in sleep quality and quantity.

86% report an overall improved sense of mental wellness and clarity.

28% report a noticeable reduction in depression symptoms.

79% report a feeling of closeness with their community and wanting to give back.


Hope this has motivated you enough to download a yoga app right away! But wait, read the complete article to see which app suits you the best.


Now, without any further ado, let's get started.


As we said, we will be sharing a magic recommendation with you. Here is it. Yog4Lyf, a yoga app you can download to start your health transformation journey.


In this app, you get yoga sessions for each category – and for almost all age ranges.


For instance, you can find various themes such as yoga for senior citizens, yoga for weight loss, yoga for anxiety, and much more.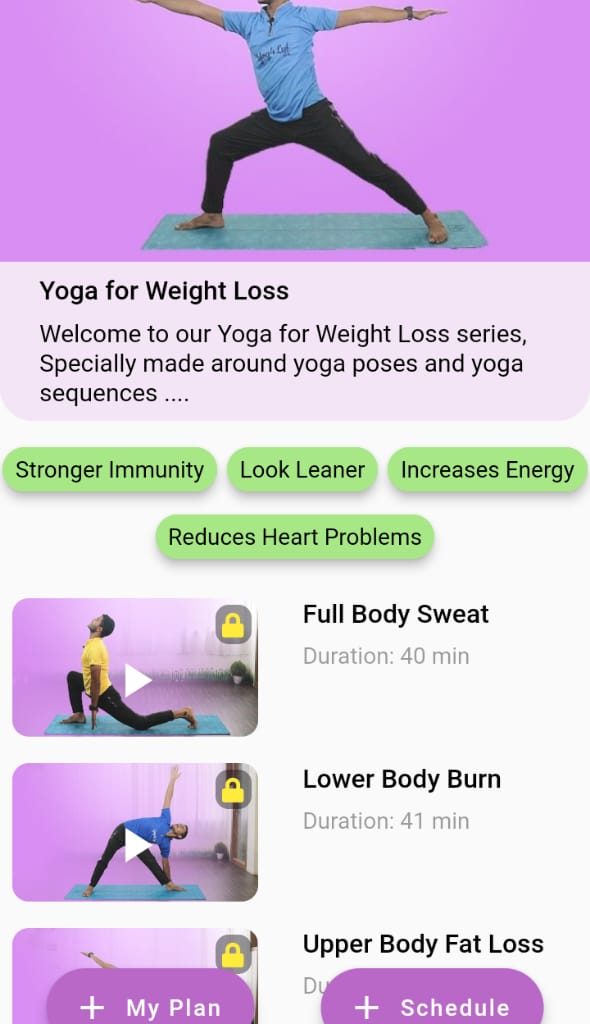 You will find video sessions of expert trainers covering each yoga asana step by step so that you don't miss out on anything. Once you buy the premium version, you get unlimited access to upcoming yoga courses.


It is one of the best android yoga apps for good health! Not only do you get yoga sessions, but you will also get a diet for weight loss, thyroid, pcos and diabetes. It won't be wrong to say that Yog4lyf will take care of all the things in your health transformation journey.


Pros

The UI is pretty easy to use
Affordable in both yearly as well as monthly packages
More than 100s of high-quality, follow-along yoga videos
You can download the videos for offline viewing.

Cons

More themes can be added
Ratings on Playstore: 4.8

Customer reviews:

Awesome app for practicing yoga.Will strongly recommend.Grateful to Yog4lyf for helping me to bring positive changes both physically and mentally.💟 Reeta Antony


This is app i m looking for,After using 6 month I felt this is a best yoga app for health. Earlier I was doing weight loss classes in english language , then I saw there is hindi language option is available then I started doing in my familier language. I m much fitter than earlier . Thanks yog4lyf – Mehrotra's Bhajan Diaries


Yog4Lfy is app is good for yoga, simple with effective asanas will improved strength and increasing imunity power, especially background music will create more interesting, improving concentration and avoiding intermediate thoughts while doing asanans and meditation. 20 min Power yoga series is design with in less time, with more benefits 👏 👌, Thank you Yog4Lfy team. – Madhusudhan Naidu

This is what they say about their app:


"With Down Dog, you get a brand new yoga practice every time you come to your mat. Unlike following pre-recorded videos, Down Dog won't make you do the same workout over and over again. With over 60,000 different configurations, Down Dog gives you the power to build a yoga practice you love!"


Some of the notable features of this yoga app are:

Choose from 6 different yoga teachers to be guided by a voice you love.
Automatically syncs across all your devices.
Dynamically changing music that rises and falls with your breathing.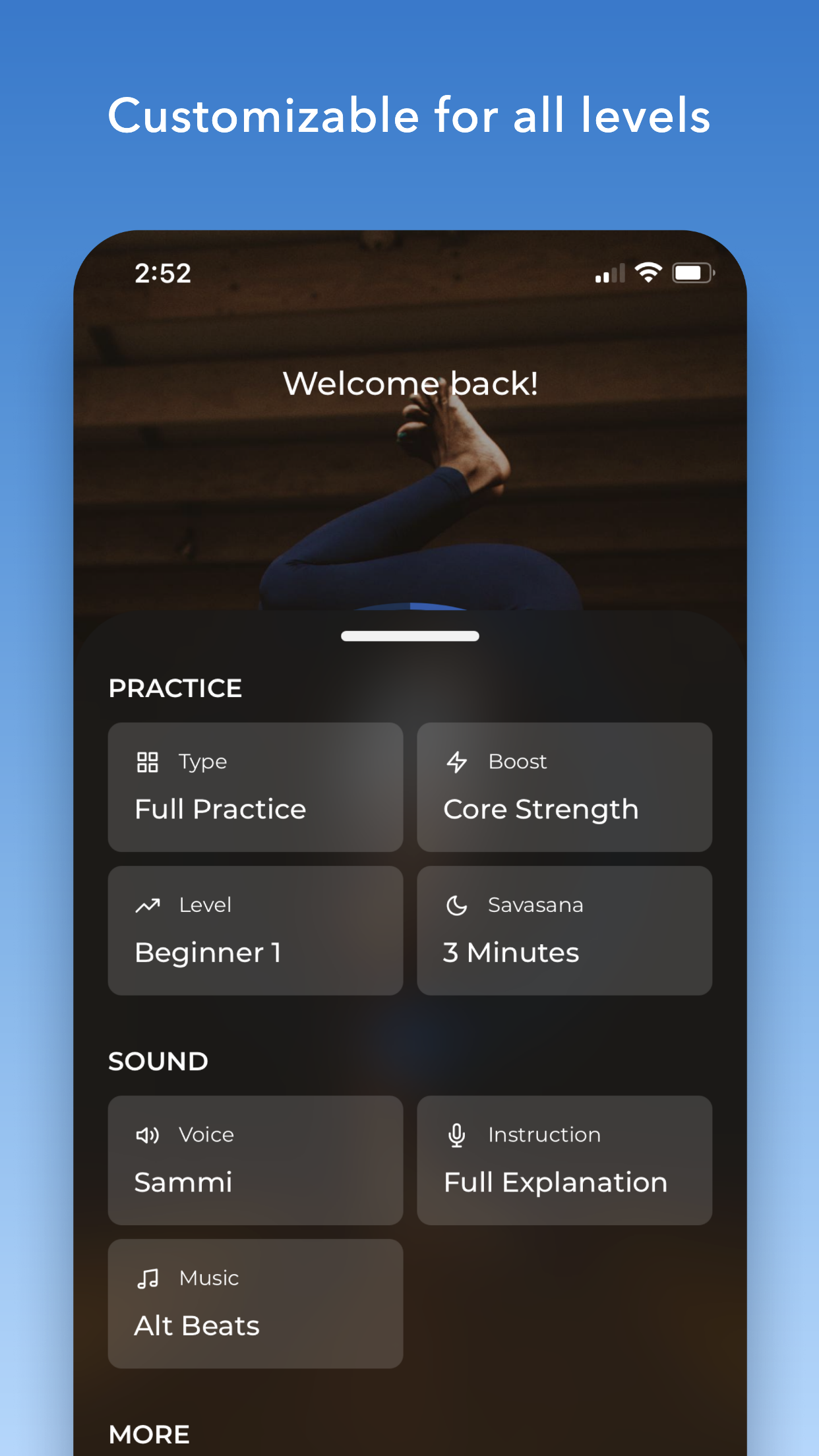 Pros

Explore Vinyasa, Cardio Flow, Hatha, Gentle, Restorative, Yin, Ashtanga, Chair, Yoga Nidra, Hot 26, and Sun Salutation practices.
Easy to follow along to
Mixes up your workouts so you never do the same one twice
Can download classes to take offline
Super customizable

Cons

A little pricey

Ratings on Playstore: 4.8

Customer reviews:

One of the best apps for yoga. For beginners as well as experienced ones. Easy to use. You can choose from as little as 9 mins to even 90 mins with focusing on your variation of choice like core strength, flexibility, upper body etc. I have been thinking to start doing but due to lack of proper guidance always postponed it. With the guidance for the beginners, have started using it for some time now & Loved it. Thank you for creating such an amazing app. – Dr Jyoti Singh

I just love everything about this app. You can personalize each part of you practice as you prefer, it offers different levels so everyone can easily follow it. Every session is different so you never get bored of doing the same exercise. I have try the first month trial and I feeI I have already learned so much. By far the best yoga and wellness app I have tried. For some reason it just feels like a real practice and not like you are following a trend. I recommend so much! – Isabella Gutierrez

I absolutely love this app for yoga it's the only one I use. Being able to tailor your experiences to your needs is incredible. I will say, I took one star because they removed the boosts like low back stretches. The only ones available are hip or hamstring stretches. You can still stretch your lower back during the practice, but they've taken a lot of customizing options away. Illyssa Demarino

The Daily Yoga application can assist you in reaching your goal of practicing more regularly by providing you with over 500 yoga flows and 70 yoga programs.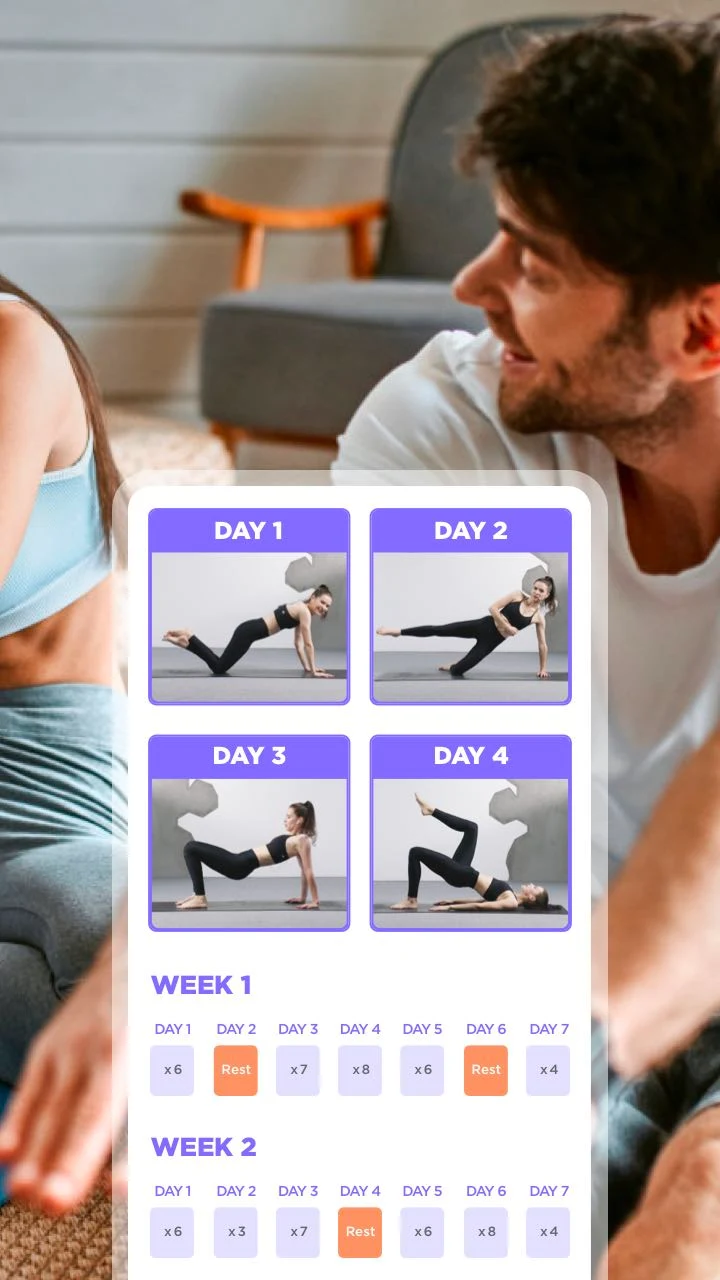 If you're new to yoga, you can study the fundamentals in a two-week program, and there are many choices for those who are advanced as well. You can also interact with other yogis and experts through the community platform feature.

Some of the notable features of this yoga app are:
Yoga and meditation classes for all levels

Access to one of the best online global yoga communities

The Smart Coach feature helps you from the hassle of repeatedly searching for the right class. The Smart Coach feature creates a 28-day schedule of classes to help reach your one-month goal.


Pros

The biggest worldwide yoga community

New classes are updated weekly

More than 500 asanas, 200 guided yoga, Pilates, and meditation classes, and 50 workout programs are included in the monthly pro subscription package, catering to all levels, from novice to expert.


Cons
A bit pricey as compared to other yoga apps

Requires subscription to get certain features like routines, classes, and more.

The app is a bit technical and advanced for people who are new to yoga.

Ratings on Playstore: 4.2


Customer reviews:

I love this app. I've been using it for awhile and probably my favorite thing about it is that it keeps tracks of when you do sessions. I'm all about accountability so it's really nice to see your own progress. The sessions are great for beginners! I will be continuing to use it! This is helping me. I love the background music, soothing voice, straight to the point and no additional chatter, visuals, and everything is amazing! – Elmaleh Sheryl

It took me a while to find a yoga app that I can use. Daily Yoga is the best ever. Very easy to use! This is truly perfect for beginners. I haven't tried harder levels yet, but I'm sure they'll be great too. There are plenty of short videos to help me learn the postures before doing the sessions. Perfect for beginners. Now it's part of my routine. – Sweeney Tibbetts


This is truly perfect for beginners. I haven't tried harder levels yet, but I'm sure they'll be great too. If you don't know what you're doing and you really want to get started, this app is perfect. Other apps start beginners at a much more challenging pace. Love the ambiance of the whole thing. I would recommend it to everyone. – A Google user


Which yoga app should you pick between Down Dog vs Daily Yoga?

Though our answer here will be cliche – IT DEPENDS ON YOU! Because every person's goals, schedule, preferences, and budget are different. But since we said we will help you pick a yoga app, here are our suggestions:

If you are looking for an app that covers it all and budget is no constraint, you can go for Down Dog.


However, if you are looking for an app that guides you across and you can be exposed to the world of yoga, go for Daily Yoga. The premium subscription is a bit costly though!


If you need a yoga app that is affordable yet covers it all, Yog4lyf should be your pick. You will get hands-on access to video tutorials for all the yoga asanas that you can perform even in your busiest schedule

But as we said, it depends on YOU!

Conclusion

Hope this article has justified the purpose you have read it for. This comparison between Down Dog and Daily Life was meant to help you pick a yoga app so that you can start you healthy journey ASAP.

Let us know in the comments section if you have used any of these. If not, which one are you planning to download next?